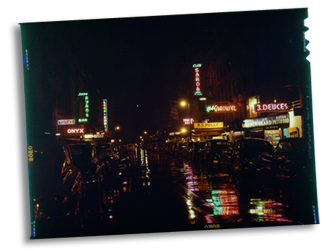 CD design for
Canal Street Syncopators
In late Autumn 2012 I got the opurtunity to design a CD for an Uppsala jazz band - Canal Street Syncopators. As the band mainly plays jazz 20's and 30's, I opted a "vintage" design with a 30īs feel. To get this I choose to artifically age the front cover photo, and also apply the same ageing to a the backside of the CD box; additionally the CD-label was designed to imitate old records. The front cover photo is by William P. Gottlieb, and shows 52nd street in New York 1948 (original to the right). The photo is a part of the The William P. Gottlieb Collection, which is public domain and administered by the Library of Congress, USA. The collection is viewable on Flickr.

Front and back (with sides) of the CD case, with vintage look photo and backround.


Backside of the folder, i.e. facing the CD as one opens the CD box, with photos of the band at a gig 2012, and the CD itself, with white base and black print over it, trying to replicate the look from an old vinyl.




The three inside folds of the folder. Some small art deco style decorations used, otherwise quite sober with a plain san serif font for the text and the bands logotype font for headings and anfangs.

---